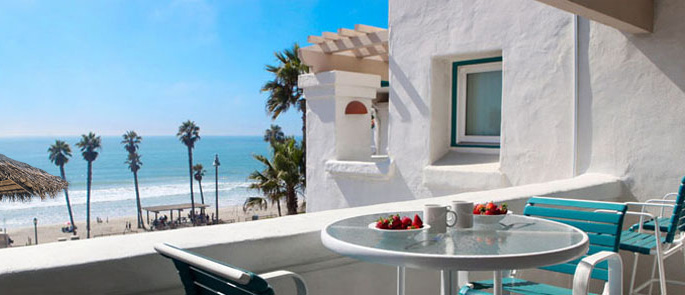 San Clemente Cove Resort Condo Vacation Rentals Offered
San Clemente Cove Resort offers Mediterranean-inspired condo beach rentals nestled on a terraced sea bluff above the Pacific Ocean. In the quaint "Spanish village by the Sea" our beach rentals in San Clemente feature spacious condo suites and stunning ocean views, in a world of charming shops, delightful restaurants and boundless activities. A short drive to Los Angeles and San Diego, San Clemente Cove Resort allows guests the flexibility to visit exciting attractions ranging from Disneyland and Universal Studios, to LEGOLAND California, the San Diego Zoo and SeaWorld. This vacation rental in San Clemente, California, offers it all – a spectacular ocean-front setting in the heart of Southern California.
One Bedroom Condo
Sleeps 4 people
Bed Type(s): Queen Size Bed & Queen Sofabed
Bathroom(s): One Bathroom
Please click here to see current availability, prices, payment options, photos and other information regarding San Clemente Cove Resort condo vacation rentals.
Contact Information
If you have any questions or need any help regarding anything on our website, please do not hesitate to contact us. Our email address is [email protected], and our telephone number is (520) 761-1412.