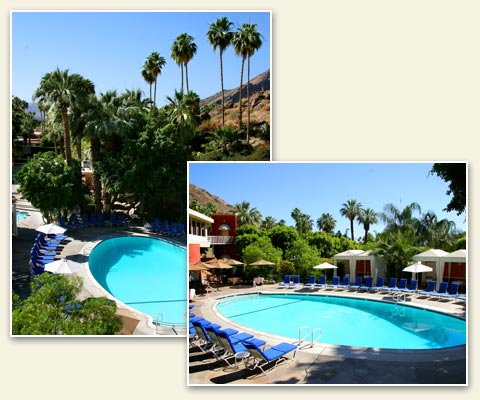 Palm Springs Tennis Club Resort California Condo Vacation Rentals Offered
Need more info or want to rent a week at this resort? Please click here to learn about currently available condo vacation rentals at the Palm Springs Tennis Club Resort.
Palm Springs Tennis Club offers elegant lodging accommodations in studios, 1BR & 2BR condo vacation rentals. The Studio condo (sleeps 2) provides 1 bathroom, Murphy wall bed or queen bed, and kitchenette. The One bedroom condo vacation rental (sleeps 4) includes 1 or 2 bathrooms, king bed, queen sofabed, and a full kitchen. The spacious two bedroom villa (sleeps 6) offers a king bed in the master, 2 twin beds in Bedroom 2, a queen sofabed, 2 bathrooms, and a full kitchen.
All suites are equipped with hair dryer(s) and DVD player. Please note that the maximum occupancy in each suite includes children regardless of their age.
Palm Springs Tennis Club Resort Amenities:
• Tennis Courts (11)
• Complimentary Movies (VCR/DVD)
• Complimentary Local Telephone Calls
• Spas/Hot Tubs (5)
• Internet Access
• Swimming Pools (3)
• Board Games
• Game Room
• Laundry Facility
• Elevator
• Restaurant Onsite (Spencers)
• Gas Barbecues
• Fitness and Exercise Room
Contact Information
If you have any questions or need any help regarding anything on our website, please do not hesitate to contact us.  Our email address is [email protected], and our telephone number is (520) 761-1412.