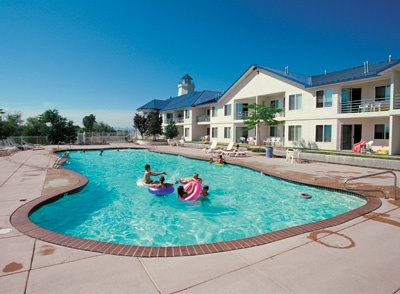 Bear Lake Resort Garden City Utah Condo Vacation Rentals Offered
Please click here to see current availability, photos and other information regarding Bear Lake Resort condo vacation rentals.
We can also get Bear Lake lodging accommodation holiday rentals here.
Bear Lake Resort Garden City Overview
If you want to get away from it all, Bear Lake Resort is the place for you. The resort is located on 20 miles of crystal clear lake, and offers swimming, boating, fishing, waterskiing, and snorkeling. Sail boats, motorboats, fishing boats, paddle boats, canoes, and rafts are available for rent. Within a short drive you can enjoy Idaho and the beauty of St. Charles Canyon with its famous Minnetonka Cave and the Oregon Trail Center in Montpelier.
Condo has:
Telephone (All Units)
Kitchen (All Units, Full)
Fireplace – Unit (All Units)
Carpet (All Units)
Dishwasher (All Units)
Microwave (All Units)
Bear Lake Resort has:
Waterskiing
Windsurfing
Lake
Boating
Fishing
Pool
Children's Pool
Tennis
Sauna
Whirlpool/Hot Tub
Playground
Laundry
Contact Information
If you have any questions or need any help regarding anything on our website, please do not hesitate to contact us. Our email address is [email protected], and our telephone number is (520) 761-1412.