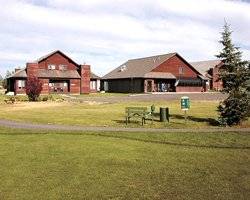 Aspen Vacation Resort Red Lodge Montana Condo Vacation Rentals Offered
The one bedroom with loft Aspen Vacation Resort Red Lodge Montana condos measure 900 square feet, and are ample for 6 people (queen beds in the bedroom and in the loft, plus a queen sofa bed). There is a full kitchen with all appliances, washer and dryer, and two full bathrooms (tub and shower), one upstairs and one downstairs.
Aspen Vacation Resort Red Lodge is nestled in the Beartooth Range of the Rocky Mountains. This is a small (10 unit) quiet resort, with accommodations located on a golf course with great mountain views.
This is a "rustic", "laid back", "peace and quiet" type lodging experience. The Aspen Vacation Resort Red Lodge complex has a new indoor swimming pool, hot tub and sauna. Chances are you will be the only ones using it! They offer VHS tapes and DVDs for rent and have books to loan. There are brochures in the office of a variety of local (depending on your definition of local) activities available ranging from horseback riding to whitewater rafting in the summer months.
Aspen Vacation Resort Condo Vacation Rental Availability
Please click here to see current availability, prices, payment options, photos and other information regarding Aspen Vacation Resort Red Lodge Montana condo vacation rentals.
Contact Information
If you have any questions or need any help regarding anything on our website, please do not hesitate to contact us. Our email address is [email protected], and our telephone number is (520) 761-1412.