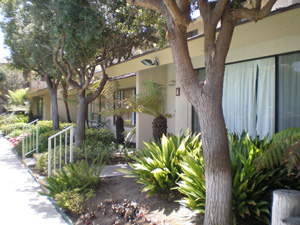 Aquamarine Villas Resort Oceanside Condo Vacation Rentals Offered
Aquamarine Villas Resort Oceanside California offers one and two bedroom condo vacation rentals. One bedroom suite (sleeps 4) has: queen-size bed, queen sofa sleeper, one bathroom, and a fully equipped kitchen. Two bedroom suite (sleeps 6) has: one queen-size bed, two twin beds, one queen sofa sleeper, two bathrooms, and a fully equipped kitchen. All suites have satellite television and hair dryer(s).
Aquamarine Villas Resort Oceanside Available Dates in 2012 & 2013
At Aquamarine Villas Resort Oceanside, as with all of our Pacific Coast beach resorts, we specialize in summer school/holiday/July vacation weeks (but we can get other weeks, please ask)!
The prices shown are the TOTAL prices. There are NO additional charges (such as sales or lodging taxes, cleaning fees, deposits, booking fees, etc.). The price you see is the price you pay!
June 25 to July 2, 2013
2BR August 2 to August 9, 2013 $999
August 18 to August 25, 2013
Click here to check availability or to rent your week.
But, we can obtain many other weeks on request, please search and enjoy using The Vacationator search engine tool.
Aquamarine Villas Resort Oceanside Overview
Situated in a breezy, beach community, Oceanside boasts one of the finest small-craft harbors on the Pacific coast. Adding to the town's vacation appeal is its location. Midway between Los Angeles and San Diego, it's within easy driving distance of Southern California's most famous amusement parks and sight-seeing attractions. Aquamarine Villas Resort Oceanside is less than two blocks from the beach, about a mile from Oceanside Pier, and only two miles from Oceanside Marina. Oceanside and the neighboring communities provide a wide range of shopping, dining, and entertainment choices.
Aquamarine Villas Resort Oceanside Unit Amenities
Telephone (All Units)
Kitchen (All Units, Full)
Fireplace – Unit (All Units)
Carpet (All Units)
Dishwasher (All Units)
Microwave (All Units)
Aquamarine Villas Resort Oceanside Amenities
Gas Barbecues
Board Games
Laundry Facility
Game Room
Social Activities
Internet Access
Swimming Pool
Whirlpool/Spa
Complimentary Movies (VCR)
Complimentary Local Calls
Beach (1 block)
Local Activities
Boating
Dining
Mexico
Sports Fishing
Surfing
Winter Whale Watching
Sailing
GolfYachting
Contact Information
If you have any questions or need any help regarding anything on our website, please do not hesitate to contact us. Our email address is [email protected], and our telephone number is (520) 761-1412.